Sote Waqt Padhne Ki Dua
Islamic Arabic Dua: Sonay Ki Dua in Arabic text With Urdu Tarjuma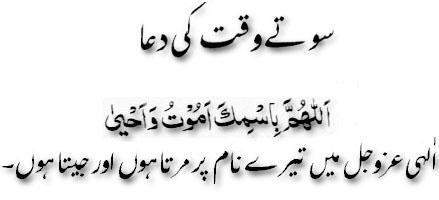 Sleeping Dua in Roman English: Allahumma Bismika Amutu Wa Ahya
Raat ko sote waqt ke dua in Urdu tarjuma, Sone se pehle oar jagty wqat ki Arabic duain Urdu mein, masnoon Islamic wazaif for seelping early with meaning in Hindi. Prayer when sleep with Arabic text in roman English, supplication before going to bed for a asleep in Islam, sonay say pehlay ki dua in Hindi.

Islamic Masnoon Duain in Arabic Text With Urdu & Hindi Tarjuma
Learn Quran online with tajweed by starting One Month Free Trial Quran Lessons for your beautiful kids.