Momin Se Momin Ki Mulaqat Ke Waqt Dua
Islamic Arabic Dua: When Meeting Another Muslim With Urdu Tarjuma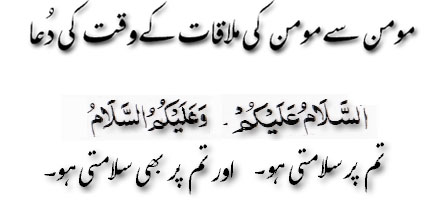 Momin Se Momin Ki Mulaqat Dua in Roman English: Asslamu Aliakum, wa alaikum salam.
What dua to say when meet any other Muslim brother, sister in Islam, Mulaqat ki Arabic dua Hindi me, masnoon Ismaic duain wazaif dhikr prayer supplication to say while meeting another Muslim in Urdu.

Islamic Masnoon Duain in Arabic Text With Urdu & Hindi Tarjuma
Learn Quran online with tajweed by starting One Month Free Trial Quran Lessons for your beautiful kids.