Teesra Kalma Tamjeed Tarjuma in Urdu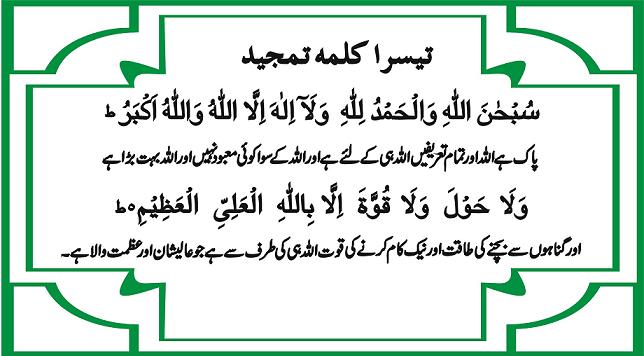 1. First Kalima      2. Second Kalima    3. Third Kalima
4. Fourth Kalima   5. Fifth Kalima         6. Sixth Kalima
3rd Kalima Tamjeed means: The word of Glorification-Glory of Allah
Kalma Tamjeed in Roman English: Subhanallahe Wal Hamdulillahe Wa Laa ilaha illal Laho Wallahooakbar. Wala Haola Wala Quwwata illa billahil AliYil Azeem.
Teesra-soom Kalma Tarjuma in Urdu Hindi: Allah pak hy oar tamaam tareefein Allah he ke liye hain. Oar Allah ke siwa koi mabood nahi oar Allah he boht bra hey, Oar ghunahon se bhachney ki taaqat oar neik kaam kurne ki qowwat Allah he ki tarf se hy jo ali-shaan oar azmat wala hy.
Third Kalma With English Translation: Glory (is for) Allah. And all praises for Allah. And (there is) none worthy of worship except Allah. And Allah is the Greatest. And (there is) no power and no strength except from Allah, the Most High, the Most Great.