Doosra Kalma Shahadat Tarjuma In Urdu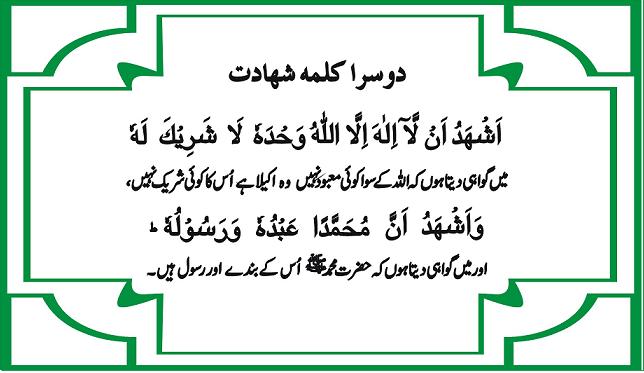 1. First Kalima      2. Second Kalima    3. Third Kalima
4. Fourth Kalima   5. Fifth Kalima         6. Sixth Kalima
2nd Kalima Shahadat means: The word of Testimony-Evidence
Kalma shahadah in Roman English: Ashahado An Laa ilaaha illal Laho Wahtha Ho La Shareekala Hoo Wa Ash Hado Anna Mohammadan Abdo Hoo Wa Rasoolohoo.
Doosra-Doom kalima shahadat Tarjuma in Urdu Hindi: Ashadu an la ila ha ill Allah ho wah da ho, la shre ka la ho wa ashado anna Muhammadan andoho wa rasolo
Second Kalma With English Translation: I testify that (there is) no partner for Him. And I testify that certainly Muhammad (is) His worshipper and His Messenger.