Panchwan Kalma Istighfar With Urdu Tarjuma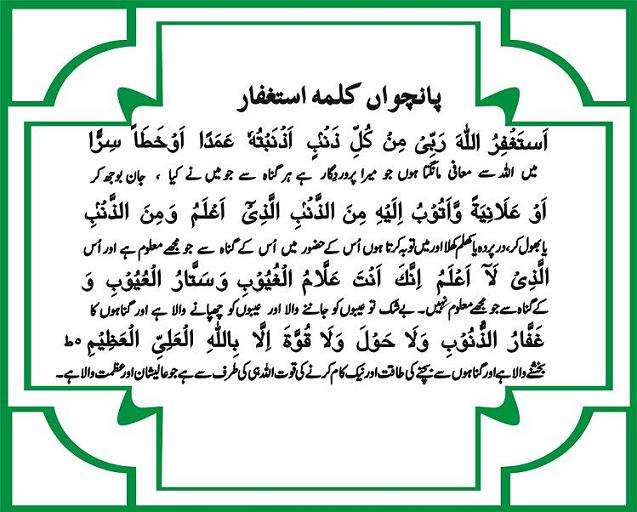 1. First Kalima      2. Second Kalima    3. Third Kalima
4. Fourth Kalima   5. Fifth Kalima         6. Sixth Kalima
5th Kalima Istighfar means: The words of Seeking Forgiveness-Repentance
Kalma Astaghfar in Roman English: Astagh firul-Laaha Rab-bee Min Kuli Zanmb-bin Aznabtuhu Amadan Au Khata-an Sir-ran Au Alaaniyatan Wa Atoobu Ilaiehi Minaz-Zanmbil-Lazee A'lamu Wa Minaz-Zanmbil-Lazee Laa A'lamu In-naka Anta Al-laamul Ghuyoobi Wa Sat-taaral Uyoobi Wa Ghaffaaruz Zunoobi Wa Laa Haula Wa Laa Quw-wata Il-laa Bil-Laahil Aleey-yil Azeem.
Panchwan Panjam Kalma Tarjuma in Urdu Hindi: Main Allah Se mafi mangta hun jo mera rab hai, apne har us gunah se jo maine jan buzkar kiya ya bhul kar kiya chhup kar kiya ya zahiran kiya aur main uski bargah me tauba karta hu ush gunah se jisko main janta hun aur us gunah se bhi main jisko nahi janta. ay allah beshk tu gaibo ko janne vala he aur aaibo ko chhupane vala aur gunaho ko bakhshne vala hai. aur gunah se bachne ki taakt aur neki karnekikuvvat nahi magr allah ki madad se jo bahot buland azmatwala hain.
Fifth Kalma With English Translation: I seek forgiveness from Allah, my Lord, from every sin I committed knowingly or unknowingly, secretly or openly, and I turn towards Him from the sin that I know and from the sin that I do not know. Certainly You, You are the knower of the hidden things and the Concealer of the mistakes and the Forgiver of the sins. And there is no power and no strength except from Allah, the Most High, the Most Great.