4.Fourth Kalima

Tauhid: (

The word of Unity

)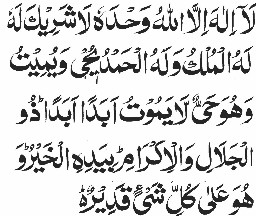 Learn Quran online with tajweed One Month Free Trial Quran Lessons for beginners, kid, adult on Skype.
       1: First Kalima Tayyab       2: Second Kalima Shahaadat
3: Third Kalima Tamjeed   4: Fourth Kalima Tauhid
          5: Fifth Kalima Istaghfar    6:  Sixth Kalima Radd-e-Kuffer
Fourth Kalima Tauhid with Roman English: Laaa Ilaaha Illa-llaahu Wahdahoo Laa Shareeka-lahoo Lahu-l Mulku Walahu-l Hamdu Yuhyee Wayumeetu Wahuwa Hayyu-l Laa Yamootu Abadan Abada. Dhu-l Jalaali Wal Ikraam. Biyadihil Khair. Wahuwa Alaa Kulli Shai-'in Qadeer.
4th Kalma Tauhid with English Translation: There is none worthy of worship except ALLAH. He is alone and has no partner. To Him belongs the Kingdom and for HIM is all praise. HE gives life and causes death. In HIS hand is all good and HE has power over everything.