Chota Kalma Tauheed Tarjuma In Urdu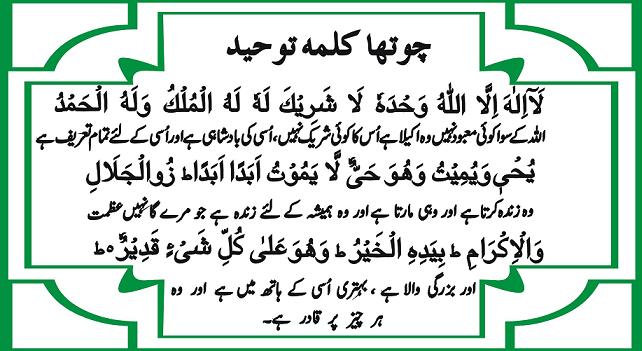 1. First Kalima      2. Second Kalima    3. Third Kalima
4. Fourth Kalima   5. Fifth Kalima         6. Sixth Kalima
4th Kalima Tauheed-Toheed means: The word of Oneness-Oneness of Allah
Kalma Tauhid in Roman English: Laa Ilaaha Il-lal Laahu Wahdahu Laa Shareeka Lahu Lahul Mulku Walahul Hamdu Yuhyee Wa Yu-meetu Wa Huwa Haiey-yul Laa Yamootu Abadan Abada, Zul Jalaali Wal Ikraam Biyadihil Khaieru Wa Huwa Alaa Kul-li Shaie-in Qadeer..
Chaharam-Chota Kalma Tarjuma in Urdu Hindi: Allah ke siwa koi mabood nahi, Wo akela hai uska koee shareek nahi, Usiki baadshai hai oar usi ke liye tamaam tareef hai, Wo zinda kurta oar wohi maarta hai, Oar wo hamaisha ke liye zindah hai jo mry ga nahi, Wo azmat oar bazurgi wala hai, Behtri usi ke haath me hai, Oar wo hur cheez par qadir hai.
Fourth Kalma With English Translation: There is none worthy of worship except Allah. He is only One. There is no partners for Him. For Him is the Kingdom. And for Him is the Praise. He gives life and acuses death. And He is Alive. He will not die, never, ever. Possessor of Majesty and Reverence. In His hand is the goodness. And He is the goodness. And He is on everything powerful.